| | |
| --- | --- |
| news.uthscsa.edu | November 17, 2022 |


The importance of lung cancer screening
Robert Maximos, MD, associate professor in the Department of Medicine and interventional pulmonologist with UT Health Physicians, talks about who should schedule a lung cancer screening and the role early detection plays in treatment. Learn more about the Lung Cancer Program here.
Art and Alzheimer's
ReCollections — a partnership between the San Antonio Museum of Art and the Glenn Biggs Institute for Alzheimer's and Neurodegenerative Diseases — brings together people living with Alzheimer's and related dementias and their families and caregivers in facilitated conversations inspired by works of art to encourage storytelling. Join the next virtual session celebrating food and feasts across time and cultures this Saturday, Nov. 19.
Everything it takes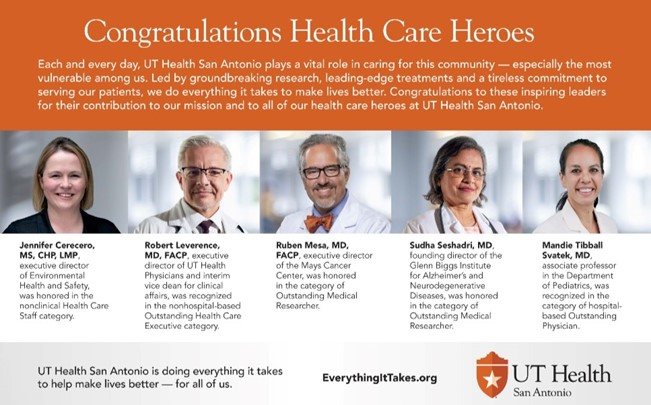 KENS 5: South Texas is getting hit hard by the flu; ways to protect yourself
Jason Bowling, MD, and Jan Patterson, MD, Infectious Diseases, are quoted in this report.
Yahoo.com: UT Health San Antonio plans new MS in Imaging Sciences program
Laura Vasquez, PhD, Medical Sciences, and Rajeev Suri, MD, Radiology, are quoted in this article.
Salon: Fentanyl in high school: A Texas community grapples with the reach of the deadly opioid
Jennifer Sharpe Potter, PhD, MPH, vice president for research and professor of psychiatry and behavioral sciences, was quoted in this story.
San Antonio Report: After 75 years, San Antonio Medical Foundation is still fostering local health care and research
William L. Henrich, MD, MACP, president of UT Health San Antonio, is quoted in this story.
Other faculty experts in the media
If you no longer wish to receive News from UT Health San Antonio, please unsubscribe using the link below.