UT Dentistry is ready to safely resume your care.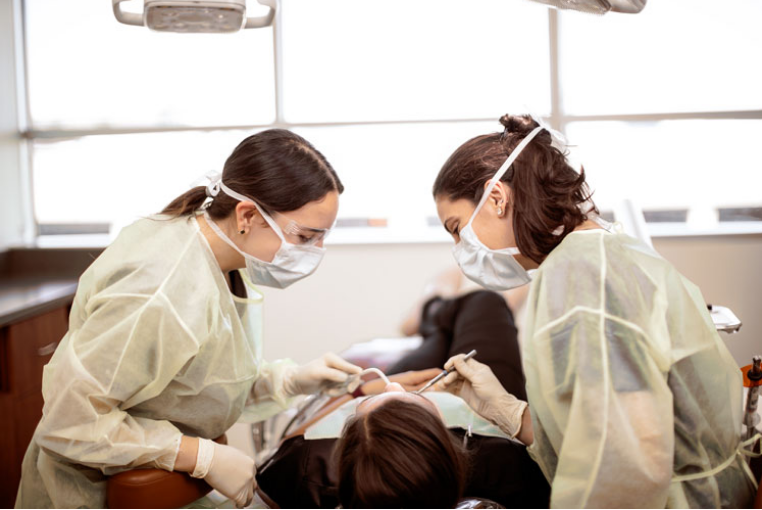 UT Dentistry is committed to keeping you safe and healthy as we reopen and get back to the business of making sure you get the best dental care possible.
Our dental practice is now open for patients like you, who have had to delay your treatment due to the recent pandemic. If you are ready to resume care, we invite you to make your appointment today by calling or visiting us online.
Teaching Practice (210) 450-3700

Resident and Faculty Practice (210) 450-3270
If you know the phone number of the clinic where you are being seen, please feel free to call that number directly.
To keep you as safe as possible during your visit with us, we have many new processes and protocols in place. This is especially important for certain procedures. We appreciate your understanding and cooperation. Our goals are to take care of our patients and keep everyone as safe as possible.
We now have three levels of screening for all our patients:
Screening by phone: All patients will be screened over the phone prior to their dental appointment for potential COVID-19 key symptoms. If you are having symptoms, recommendations will be made for you to contact your medical doctor. You may be asked to test for COVID-19 prior to your appointment. We will reschedule your appointment in a timely manner.
Screening by testing for COVID-19 when needed: As a screening method, we may ask that you get a COVID-19 test before having an aerosol creating procedure.

Some procedures create what we call "aerosols". These are small particles created by using a dental handpiece or an air/water syringe in the mouth. Common procedures that result in aerosols include fillings, crowns, and many surgical procedures.
These procedures can only be performed on patients who have a test that shows they do not have COVID-19. We can do the test for you as part of our service.

A UT Dentistry scheduler or provider will discuss COVID-19 testing when contacting you for your appointment.
Screening at arrival: When you arrive at our practice for your appointment, you will be screened for signs and symptoms of COVID-19. Your temperature also will be taken. If there is concern of a possible COVID-19 infection, patients will be referred to their health care provider for testing and their dental appointment will be rescheduled. For patients who do not have a physician, a list of testing sites will be provided.
In addition to these new protocols, we have put into place very strict safety precautions for our staff and patients to ensure your safety:
We require everyone (patients, staff and providers) to wear a mask or face cover while in our facility.

Companions are not allowed to join you at to your dental appointment. This helps limit the number of people in our offices.

Do not arrive earlier than 15 minutes for your scheduled appointment. This helps avoid crowding in our waiting areas.

Many new infection control procedures will be used during your treatment. This includes the use of special masks our providers wear to reduce the possible spread of infection.

We also will continue to ask about your symptoms in the days after your visit to make sure you are healthy and doing well.
Please contact our practice with any questions about your care prior to your appointment.
Thank you for your help in making this the safest environment for you and our providers.
Once again, if you have any questions or concerns, do not hesitate to call us. We look forward to your return.
Thank you,
UT Dentistry
Contact us to make your appointment today!