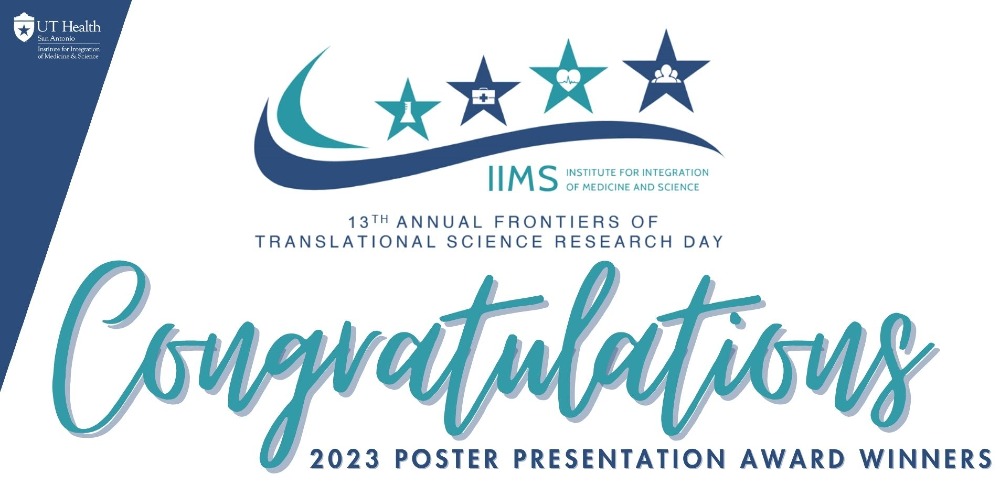 Lysine-specific histone demethylase 1A (KDM1A/LSD1) inhibition attenuates DNA double-strand break repair and augments efficacy of temozolomide in glioblastoma
Salvador Alejo (Student Category)
Understanding Structural and Dynamic Effects of the EWS-FLI1 interactome on the EWS Low Complexity Domain Function
George Parra (Student Category)
The utility of EC359 for targeting oncogenic LIFR signaling in Type II Endometrial Cancer
Layasri Thumatichandrasekaran (Other Category – Health Careers High School)
The Effect of Skincare Products on Antibiotic Pollution
Siddharth Tripathi (Other Category – Health Careers High School)
Investigating the inter-regulation of neuroendocrine tumor predisposition genes to reveal insights into their function
Shivi Goyal (Other Category – Health Careers High School)
Informatics Approach to Monitoring Participant Recruitment through the National Dental PBRN
Ashley Spencer (Other Category – Research Coordinator)
Osteocytic Connexin 43 Hemichannel as an Anti-Obesity Target
Francisca Acosta (Postdoctoral Fellow Category)
A Seed or Soil Problem: The Role of Peritoneal Mesothelial Cells in Endometriosis Lesion Formation
Virginia-Arlene Go (Clinical Fellow/Resident)
Amantadine Has Efficacy to Reduce a Mouse Restricted Repetitive Behavioral Parallel of Autism
Georgianna Gould (Faculty Category)
Methocinnamox: a novel treatment for preventing relapse and overdose
David Marguire (Faculty Category)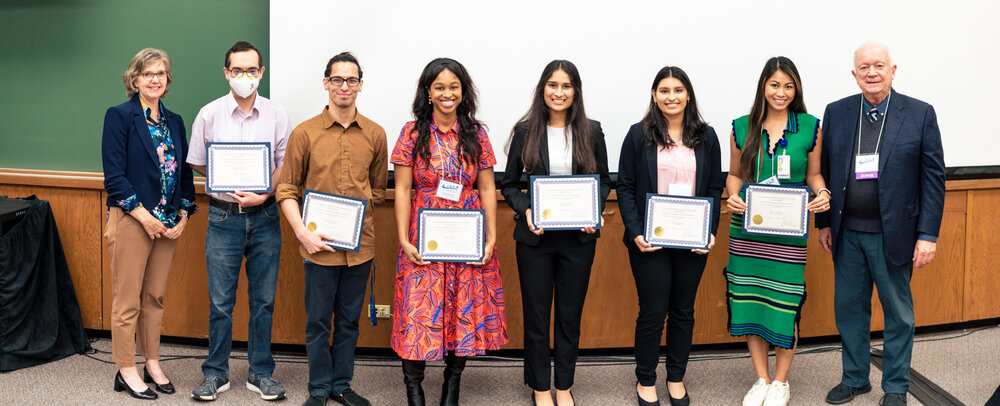 We would like to extend a heartfelt thank you for attending our event. Your presence and participation helped to make it a memorable and engaging experience. We hope that you gained valuable insights and connections. We look forward to seeing you again next year.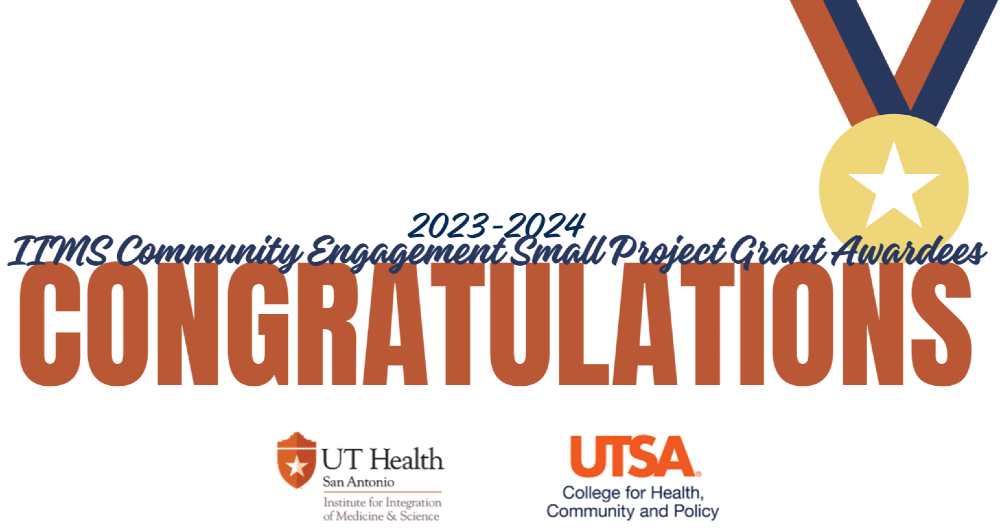 Wound Care by UT Street Nursing: A Mobile, Street-Based Community Partnership to Provide Wound Care to Unsheltered Individuals on the Streets of San Antonio Texas.
Diana Cavazos, PhD, RN – UTHSA School of Nursing Madelein Santibaez – Corazón San Antonio


Addressing Employment Needs of People with Lived Experience of Mental Illness in Bexar County of Texas
Chinyu Wu, PhD OTR – UTHSA School of Health Professions Anna Grey, MEd – Prosumers International


Barriers and Facilitators to Diabetes Management Among Adults with Blindness or Vision Impairment: An Intersectional Study
Emily Nicklett, PhD, MSW – UTSA College for Health, Community and Policy Julia Crowley, Francisco Zepeda – SA Lighthouse for the Blind and Adelita Cantu, PhD RN – UTHSA SON


The Perceived Life Experiences of Black African Methodist Episcopal (AME) Church Members and their Influence on Health.
Nia Lane-Nelson, RN, BSN – UTHSA School of Nursing Janna Lesser, PhD, RN – UTHSA SON and Rev. Jordan Mkwanzi (Key personnel in partnership) – Metropolitan African Methodist Church


Caring! Arts: An Academic-Community Partnership Using Structured Expressive Arts to Support Well-Being of Informal Caregivers
Adelita Cantu, PhD, RN – UTHSA School of Nursing Jill Ewing – Bihl Haus Arts and Sara Masoud, MPH - UTHSA School of Nursing


A CBPR, Mixed-Methods Design Study Among Older Adults in Frio County
Alvin Estacio, MS – South Central AHEC and UTHealth School of Public Health Melissa Valerio, PhD, MPH – UTHealth SPH and Frio County Translational Advisory Board


A Practitioner and Refugee and Immigrant Community Collaborative Develops a Patient-centered, Culturally Appropriate, Smokeless Tobacco Cessation Intervention Program
Rahma Mungia – BDS, MSc UTHSA School of Dentistry and South Texas Oral Health Network PBRN Moshtagh Farroki, DDS, MPH San Antonio Refugee Health Clinic, Suhaib Haq – El Bari Community Health Center, and Fozia Ali, MD – UTHSA School of Medicine


Project Blink (Eye and Visual Health Community Service Learning)
James Garcia – UTHSA School of Medicine (SOM) Lilian Nguyen, MD – UHS Ophthalmology, Rafael Montoya, MS2 – UTHSA SOM, John Hoverson, MS1 – UTHSA SOM, Kathleen Merritt, MS 1 UTHSA SOM, and Shriya Veluri, MS1 – UTHSA SOM
2023 Public Health Camp
Apply Now!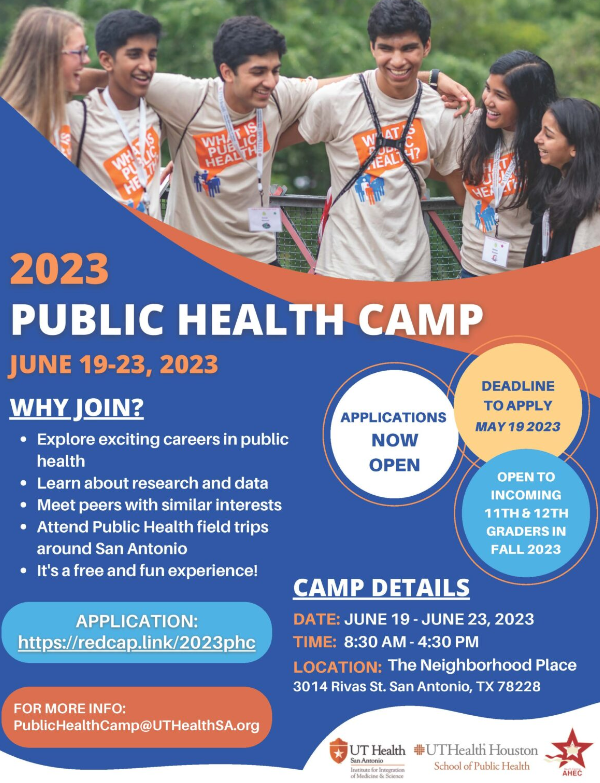 Since 2011, the Institute for Integration of Medicine & Science, South Central Area Health Education Center (AHEC), UTHealth Houston School of Public Health have partnered to plan and deliver a free week long, summer Public Health Camp for area high school students. The overall goal for the camp is to increase the future public health and biomedical workforce capacity by building student awareness and knowledge of population health related professions. Throughout the week, the Public Health Camp identifies and focuses on the 10 Essential Public Health Services that provide the core public health functions of assessment, policy development, and assurance.
Now accepting applications for the 2023 Public Health Camp HERE!
Application deadline May 19, 2023
Camp Details
Date: June 19 - June 23, 2023
Time: 8:30AM - 4:30PM
Location: The Neighborhood Place
3014 Rivas St. San Antonio Texas 78228


Pepper Center Mentored Research Career Development Award (RL5)
Apply Today!

The Research Education Core (REC) of the San Antonio Claude D. Pepper Older Americans Independence Center (OAIC) is seeking applications for the NIH-funded Mentored Research Career Development Program (RL5) from UTHSA, SA Military Health System, STVHCS, TBRI, UHS, UTSA, UT School of Public Health-SA Regional Campus, A&M-SA, and UT College of Pharmacy.
- 1 to 2-year program of intensive training clinical and/or translational science in aging.
- Up to 75% of salary support per year.
- Up to $25,000 per year for research and travel.




Clinical Research Professional Workforce Training Program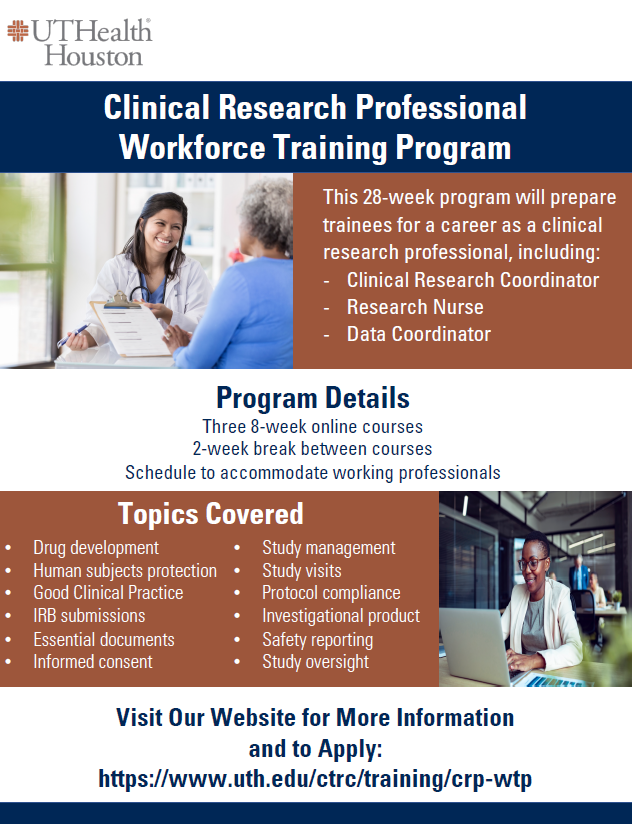 The Clinical Trial Resource Center will be offering the Clinical Research Professional Workforce Training Program. This 28-week program will prepare trainees for a career as clinical research professionals including Clinical Research Coordinators, Research Nurses, and Data Coordinators.
For more information, please see visit https://www.uth.edu/ctrc/training/crp-wtp.


2023 T1 to T4 in 3 (Minutes) Challenge
Free Event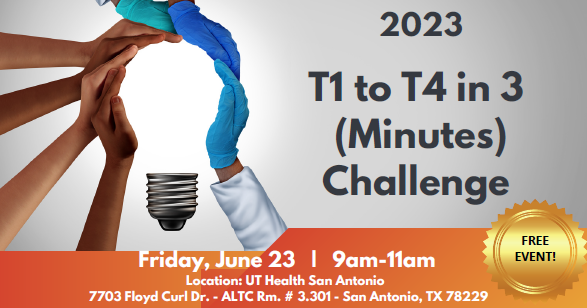 This event highlights multidisciplinary UT Health SA research projects that fall within the spectrum of translational science. Presenters share their research in-person for 3-minutes to a live, mixed audience of community members, students, and faculty utilizing language and concepts that are easy to understand - with one slide.
Travel award prizes will be given to the winners.
Friday, June 23rd from 9:00AM - 11:00AM at UT Health SA - ALTC Room 3.301
Interested presenters and audience members, please click here to register.
Proposed presentations accepted thru June 9th, 2023
The Perry & Ruby Stevens Parkinson's Disease Center of Excellence
Join us for the upcoming seminar!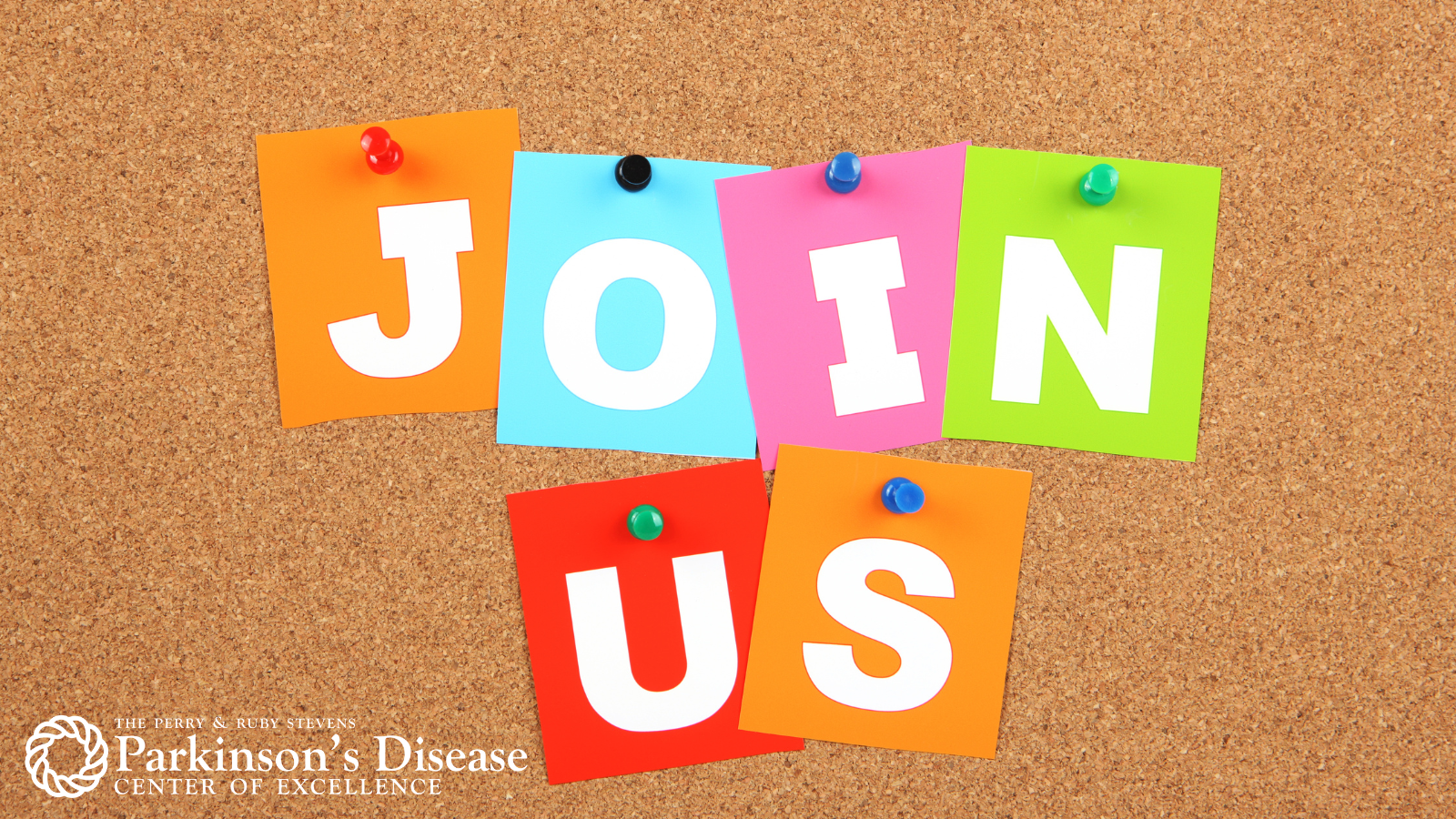 The genomic landscape of Parkinson's disease: The road from single-cell omics discoveries to gene therapy approaches
Presented by Ornit Chiba-Falek, PhD
Friday, May 26th
Seminar 4:00PM
Networking Reception 5:00PM
UT Health SA
7703 Floyd Curl Drive
San Antonio Texas 78229
LSoM, Room 209L

Click here for more information.
| | |
| --- | --- |
| NIH NCATS E-Newsletter: April 2023 | |