Translational Science Training (TST) Program
Predoctoral & Postdoctoral Fellowships Available!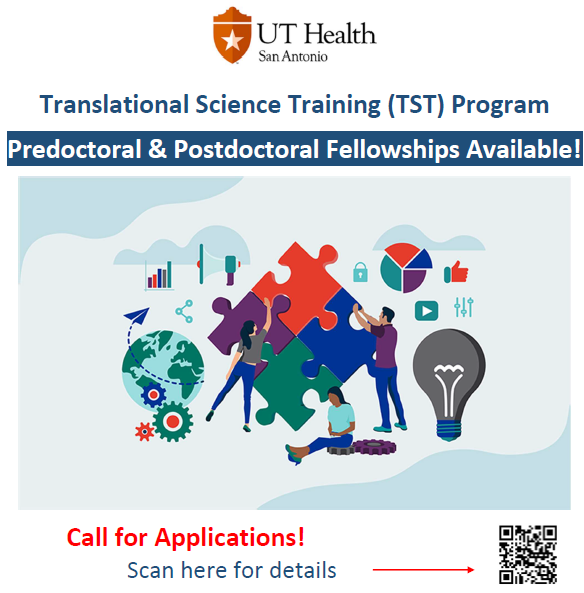 The goal of the Translational Science Training (TST) Program at UT Health San Antonio is to enhance the quality and scope of the predoctoral and postdoctoral research experience by offering stipend, travel, and tuition & fees support in combination with interdisciplinary research training and mentorship in Translational Science. This program is a benefit for both you and your mentor!
Application Deadline: February 1st, 2023
Anticipated Start Date: Fall 2023


Community Engagement Small Project Grant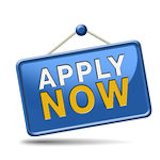 IIMS Community Engagement Small Project Grants
The IIMS and the UTSA College for Health, Community, and Policy (HCaP) are seeking proposals for one-year Community Engagement Small Project Grants Program. Our goal is to promote, develop, and expand community and academic research partnerships for the translation of science from basic discovery to clinical practice, to public health benefit. Funds may be used to develop or expand collaborative projects in one or more of these areas:
Community-engaged research or assessment
Education or training
Dissemination of research results, program features, or policy implications
Applications are due on March 1, 2023, at 5pm. For more information about CE Small Project Grants program go here or contact us at IIMS-CE@uthscsa.edu .
Primer Spring 2023 Series
Primer is a seven-session, introductory seminar designed for individuals wanting to learn about the NIH and individual fellowship applications. Primer will prepare trainees for F-Troop, a "hands-on" grant writing workshop targeted to trainees who are actively preparing applications for individual National Research Service Awards ( F30, F31, F32) for submission to the NIH or equivalent fellowship applications to other funding agencies. Primer is open to trainees at all levels.
Date: Thursdays January 12 - February 23, 2023
Location: Virtual
Time: 4:00PM - 5:00PM
F-Troop 2023 Series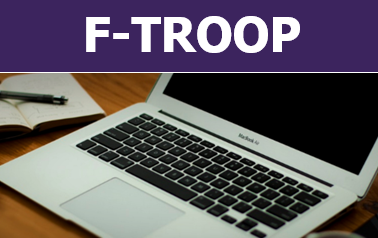 F-Troop is a weekly hands-on writing workshop that targets pre- and postdoctoral trainees who are preparing an application for a fellowship award (e.g., F30, F31, or F32). Equivalent fellowship applications to other funding agencies are also encompassed by this program.
Date: Wednesdays - January 18 - April 5, 2023
Location: Virtual
Time: 5:00PM - 7:00PM


Translational Science 2023
Innovating Translational Science for Research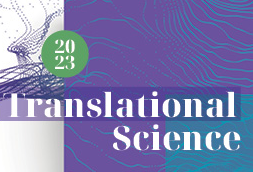 Jumpstart or advance your career at Translational Science 2023, the premier meeting for translational science and clinical research professionals. Next year's meeting features a robust program of timely, scientific sessions covering a wide array of topics from biostatistics to health equity in a variety of presentation styles.
Enjoy both concurrent sessions and inspirational keynote addresses along with our the return of The State of the Field, Mock Study, Speed Mentoring Sessions, Scholars Networking with Federal Training Partners, and the much-anticipated Capitol Hill Visits. View the schedule-at-a-glance now and stay tuned for the full TS23 scientific program to be announced in the coming weeks.
We're excited to return to Washington, DC April 18-20, with pre-meeting activities on April 17.
Register early to save! Early bird rates for Translational Science 2023 end
Monday, February 13.