CTS Roundtable: Cultural Humility/Competency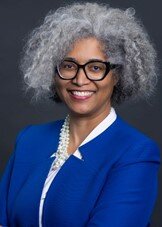 This new forum hosts participants from the San Antonio and Utah CTSA programs (KL2, TL1, TS PhD, MSCI-TS, TS Certificate, Workforce Development Personnel, etc.). Our next session is about Cultural Humility/Competency. "Cultural humility involves understanding the complexity of identities," while "cultural competence is the ability to engage knowledgeably with people across cultures;" both frameworks must be embraced to build effective programs (Khan S. Cultural humility vs. cultural competence - and why providers need both. Health City, March 9, 2021).

Chiquita A. Collins, PhD, MA
Chair, AAMC Group on Diversity & Inclusion
Vice President for Diversity, Equity, & Inclusion & Chief Diversity Officer
UT Health San Antonio
Associate Professor/Research
Department of Population Health Sciences
Long School of Medicine
Thursday, August 8th, 2022
9:00AM -10:00AM Central Time
Contact Kathlynn Wray (wrayk@uthscsa.edu) for more details
Please submit any suggestions or comments about the
updated e-newsletter format to iims-ctsa@uthscsa.edu.