| | |
| --- | --- |
| Volume 5, Issue 3 | June 10, 2021 |
Voelcker Academy resumes as COVID-19 safety restrictions subside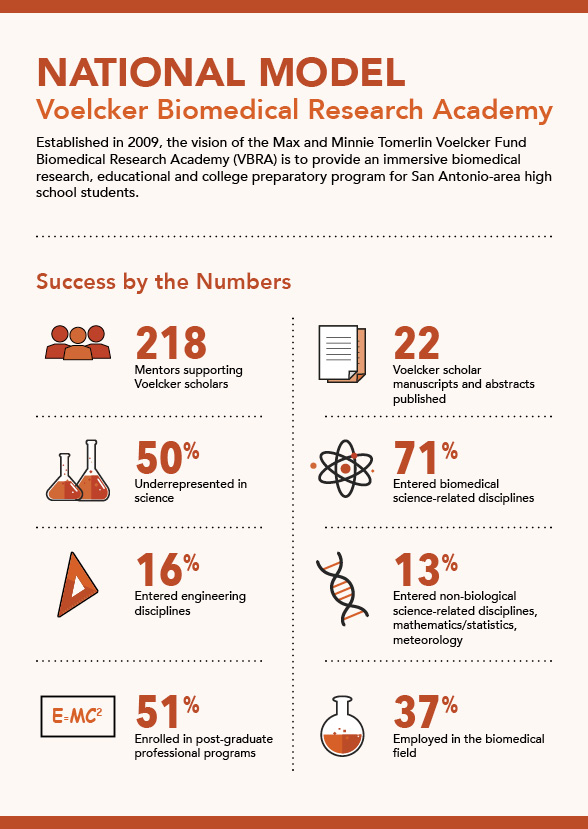 Since 2009, the Voelcker Biomedical Research Academy (VBRA) has prepared high school students (VBRA scholars) for future career options in biomedical sciences. Establishing pipeline programs in science, technology, engineering, and math (STEM) is critical to meet the expanding demand for a well-trained workforce in these fields and to increase the competitiveness of our nation in the global economy.
Nevertheless, nationwide concerns continue regarding high attrition rates and the low number of underrepresented students in STEM disciplines. Thus, programs aimed at increasing the number of STEM students completing advanced degrees must consider appropriate tools to support individuals from socio-economically disadvantaged backgrounds.
Read more
Now in its fourth year, the Briscoe Library's Image of Research Photography Competition continues to draw students, faculty and staff from across the institution.

"The annual competition allows scientists to merge art and science and look at the exciting research happening on campus through different lenses," said vice president for research, Andrea Giuffrida, PhD.

Learn more

"Inside Army," 1st place, image by Raksha Parthasarathy, PhD Candidate 

In 2019, entrepreneurial students at UT Health San Antonio founded a non-profit organization called, Enventure San Antonio. Recently, PhD candidates and co-founders, Thu Duong and Jeffrey Kim, interviewed Somer Baburek, CEO of Hera Biotech, an early-stage spin-off focusing on women's health, which licensed a revolutionary diagnostic technology invented by faculty members Bruce Nicholson, PhD and Nameer Kirma, PhD.

Read more

Photo courtesy of Enventure San Antonio

Community Information Now, also known as CI: Now, started almost two decades ago by community partnership organizations, and now serves as a repository of local data focused on health, education and demographics. The network provides valuable resources for grant applications in Bexar County and 11 surrounding counties, and offers online, interactive data tools, reports and infographics.

Read more

Last month, a total of 56 students, trainees and faculty presented their research posters at The Robert A. Clark Frontiers of Translational Science Research Day, which is

debuting a new name

in recognition of Robert A. Clark, MD,

MACP

.

Mark Goldberg, MD

, director of the Institute for the Integration of Medicine and Science, was delighted the virtual event brought researchers together to forge new opportunities for collaboration.

"Having just assumed the position less than three months ago amid an epic ice storm and a pandemic, I'm in awe of the outstanding translational research being done at our institution and the faculty's commitment to mentoring students and trainees," Dr. Goldberg said. "I want to congratulate this year's winners for their accomplishments and perseverance, especially in these uncertain times."

Read more

Tell your story at The Health Cell State of the Industry

The call for presenters at the 2021 and 2022 State of the Industry is now open. Out of an abundance of caution, this year's event planned for Tuesday, Oct. 5, from 6-7 p.m., will be virtual. The 2021 digital event will allow presenters to share their stories with a much broader audience than in past years. Next year's event will be held in person on Thursday, March 24, 2022, at the Grand Hyatt San Antonio Hotel.

Research Forums

These virtual presentations on clinical research processes and regulatory updates are held monthly on the fourth Thursday from 1-2 p.m. All sessions are recorded and can be accessed on demand. Visit the Archive of Forums for last month's presentation by Joe Schmelz, PhD, who gave an update on Research Sponsor Monitoring using the institution's EpicCare Link. Click here to bookmark the page to get started. You can register for upcoming forums using the online REDCap form.

Clinical Research & Clinical Trials

Professor Brian Eastridge, MD, led the San Antonio team of a multi-site, national research trauma study, which recently published findings in the Journal of the American Medical Association Surgery. The investigators concluded that trauma patients who received a blood-clotting drug before arriving at the hospital had a better chance of surviving than those who did not.

Read more

Supported by the Owens Medical Research Foundation, Bess Frost, PhD, recipient of the TAMEST 2020 Edith and Peter O'Donnell Award in Medicine, is leading a Phase 2A clinical trial to test the efficacy of an anti-retroviral therapy for Alzheimer's Disease (ART-AD) using an FDA-approved generic drug commonly used to treat HIV and Hepatitis B. The six-month study is currently enrolling participants. Research findings in Dr. Frost's lab have shown promise for decreasing the neurocognitive decline of Alzheimer's patients in the early stages of the disease.

Read more

Funding & Regulatory Environment

FY2021 new and renewal grant awards through May 15

Effective Jan. 25, 2022, multiple federal agencies, including the National Institutes of Health and the Department of Veterans Affairs, will require all individuals listed on the Research and Related Senior/Key Person Profile (Expanded) Form to have an eRA Commons username (Commons ID).

Read more

The Office for Institutional Advancement (OIA) at UT Health San Antonio has created a new website offering guidance, resources and services to faculty and staff when seeking philanthropic support for their research. In partnership with the Office of Sponsored Programs, the OIA has also developed a coordinated review, approval and submission process for grants sponsored by foundations and corporations.

Read more
Office of the Vice President for Research
7703 Floyd Curl Drive
San Antonio, Texas 78229
Contact us if you have a research resource or topic you want us to spotlight!
Follow us on Twitter and subscribe to our YouTube channel.
Visit the Office of the Vice President for Research for more information or click here to update your contact information and preferences.The Office of the Vice President for Research newsletter is produced by Marketing, Communications and Media.
If you want to stop receiving this newsletter, unsubscribe here.