| | |
| --- | --- |
| Volume 5, Issue 5 | August 03, 2021 |
Groundbreaking NIH-funded national study aims to treat COVID-related AKI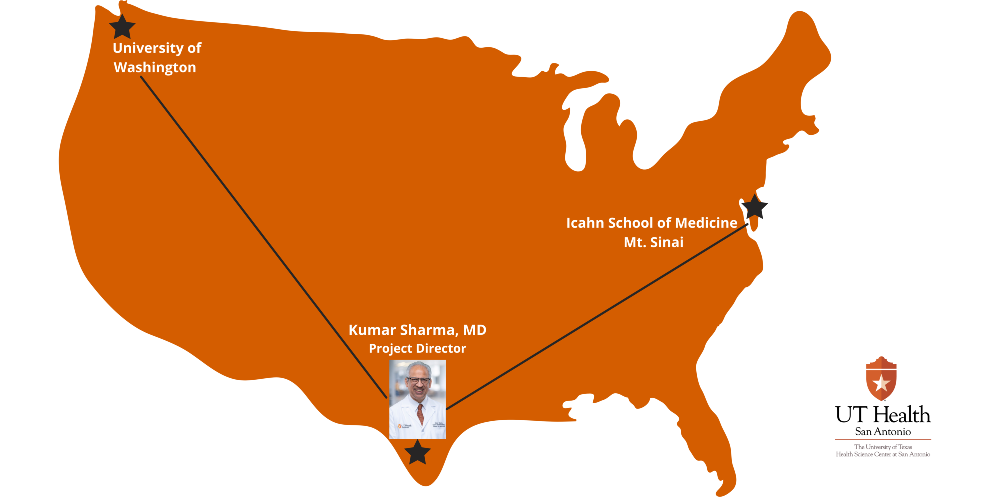 Kumar Sharma, MD, FAHA, FASN, professor of medicine at the Joe R. and Teresa Lozano Long School of Medicine at The University of Texas Health Science Center at San Antonio (also known as UT Health San Antonio) is leading researchers from the University of Washington and the Icahn School of Medicine at Mount Sinai in New York in a National Institutes of Health-funded $1M pilot clinical study. "Our goal is to reduce the severity of acute kidney disease in patients with COVID-19 and potentially other types of acute kidney disease," Dr. Sharma said.
Read more
Georgios Kotsakis, DDS, associate professor in the Department of Periodontics, co-authored the study with researchers from the University of Washington and others that was recently published in the Proceedings of the National Academy of Sciences. The study pointed to a previously unrecognized range of human inflammatory response.

Read more

Don't miss out! Earn CME/CNE credit through Aug. 31

Cardio Renal Connections Conference lectures are online to view through Aug. 31. Learn and earn CME/CNE credit when you register. UT Health San Antonio's Long School of Medicine and School of Nursing are accredited to provide continuing medical education for physicians and nurses continued professional development.

Clinical Research & Clinical Trials

The Barshop Institute is part of the NIH-funded research consortium. MoTrPAC is currently seeking volunteers to study how physical activity improves health and prevents disease.

Read more

The Spotlight on Research Integrity, sponsored by the Office of Postdoctoral Affairs, is a monthly workshop designed to promote meaningful discussions in contemporary biomedical research.

Register to view the June webinar, led by Helen Hazuda, PhD, professor of medicine, on utilizing the Belmont Principles to overcome challenges in clinical trial population selection and more. Check out the events section to register for the Aug. 24 workshop.

Read more
Office of the Vice President for Research
7703 Floyd Curl Drive
San Antonio, Texas 78229
Contact us if you have a research resource or topic you want us to spotlight!
Follow us on Twitter and subscribe to our YouTube channel.
Visit the Office of the Vice President for Research for more information or click here to update your contact information and preferences.The Office of the Vice President for Research newsletter is produced by Marketing, Communications and Media.
If you want to stop receiving this newsletter, unsubscribe here.