| | |
| --- | --- |
| Volume 2 Issue 17 | June 01, 2020 |
UT Dentistry is safely resuming care
Following guidelines set by both national and state agencies, UT Dentistry has announced that it is opening back up for patients ready to resume their dental care in the safest way possible.
READ MORE
COVID-19 Survey

Enas Bsoul, D.D.S, and Dean Loomer are surveying the School of Dentistry community to evaluate the impact of COVID-19.

Participate today!

READ MORE

Impact

Speaking of impact, have you visited the Impact site lately? Impact is an online magazine featuring our heroes on the front lines of the COVID-19 crisis.

READ MORE

Mission Rx

The Mission Rx site provides you our institution's business operations information, such as details on the 5-day leave plan and helpful resources for supervisors.

READ MORE
2020 Senior Awards
Eighty-five awards and honors were presented to the School of Dentistry's Class of 2020 during the annual Senior Awards Convocation Ceremony, held for the first time ever on a virtual platform.
READ MORE
2019 Issue of Salute
Salute is the official magazine for the alumni and friends of the School of Dentistry at The University of Texas Health Science Center at San Antonio. Read and share inspiring stories highlighting our dental alumni, faculty and students who are revolutionizing education, research, patient care and critical services in the communities they serve.
READ MORE
Take a look at all of our upcoming events and never miss out again!
READ MORE
UT Health San Antonio School of Dentistry

7703 Floyd Curl Drive
San Antonio, TX 78229
210-567-7000 | dental.uthscsa.edu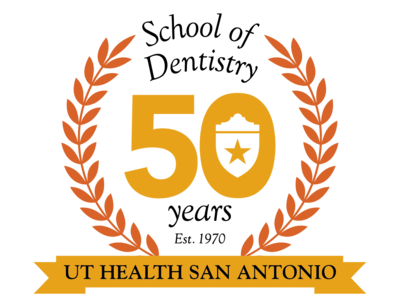 You are receiving this email because you are a part of the School of Dentistry at The University of Texas Health Science Center at San Antonio's community. If you no longer wish to receive these emails, please unsubscribe using the link below. © 2020