| | |
| --- | --- |
| Volume 2 Issue 16 | May 15, 2020 |
A Founding Father Retires after 49 Years
Every dental student trained over the last 49 years has been educated by Glenn R. Walters, D.D.S., an associate professor in the department of endodontics since 1971. Dr. Walters packed away his endodontic ruler on Friday, May 1, 2020, officially retiring from the UT Health San Antonio.


Ending Dental School under COVID-19: Bending with the Wind
"Life in dental school is, as we all know, a constant challenge of surviving gale-force winds. Those of us who have reached the end of dental school have not only learned to stomach these frustrations but have also had to learn what many generations of dentists before us learned as well: in every crisis, there is a lesson to be learned."
Hispanic Center of Excellence Awarded 8th Year of Funding
A nearly $700K award marks the start of the HCOE's 8th year under the direction of Juanita Lozano-Pineda, D.D.S., M.P.H. The Center provides for educational opportunities in dentistry for current and prospective dental students as well as for dental faculty.


The Pipette Gazette: Meilinn Tram Named SGA Representative of the Year
Meilinn Tram, a second year D.D.S./Ph.D. student has been named Student Government Association (SGA) representative of the year. Tram has been part of SGA since starting the D.D.S./Ph.D. program in 2018.
Remembering Dr. L.K. Croft
The School of Dentistry lost a beloved friend and colleague last month. Lloyd Koenning "L.K." Croft, D.D.S, passed away on Monday, April 20, 2020.
Anonymous Feedback Site
The Dean's anonymous feedback site has been updated to better serve you. Our leadership greatly values your feedback and encourages you to visit the new site.


2019 Issue of Salute
Salute is the official magazine for the alumni and friends of the School of Dentistry at The University of Texas Health Science Center at San Antonio. Read and share inspiring stories highlighting our dental alumni, faculty and students who are revolutionizing education, research, patient care and critical services in the communities they serve.
Take a look at all of our upcoming events and never miss out again!
Facuty Retreat, 5/18
An engaging program has been planned for dental faculty development.
Read more to preview the day's agenda.
Senior Awards, 5/18
Let's celebrate our Seniors!
The Class of 2020 will be recognized in a virtual award ceremony.
Staff Retreat, 5/18
Save the date for staff development. The day will start off with the faculty and then will feature topics of interest for staff.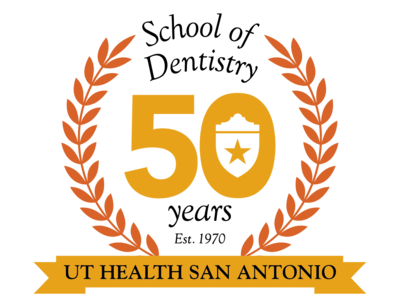 You are receiving this email because you are a part of the School of Dentistry at The University of Texas Health Science Center at San Antonio's community. If you no longer wish to receive these emails, please unsubscribe using the link below. © 2020